Return to Headlines
Douglas School Artifacts Needed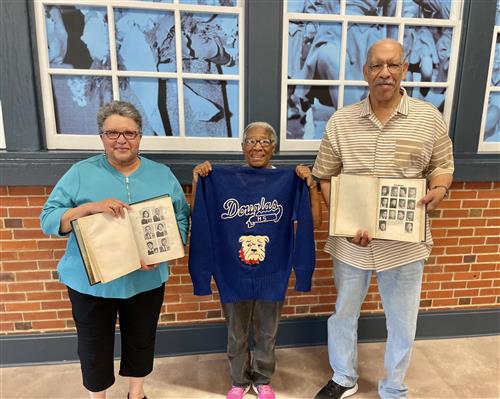 ATTENTION DOUGLAS ALUMNI:
Artifacts are needed for the Douglas School museum, opening this year!
If you or a family member attended the Douglas School from 1927-1966 and have items you would like to donate for display, please bring them in as soon as possible to the historic Douglas School - also the new location of the Winchester Public Schools central office.
Attending the Open House and Dinner Dance on July 1? Bring your photos to the Open House on July 1 (10am-noon) and we will scan them and return them to you that evening. Bring any artifacts you have to the Open House, too!
598 N Kent St / Winchester, VA 22601
Please complete this form in advance or get a copy when you come to drop off your items:
Examples of Items Needed:
Academics: Graduation Cap ○ Personal artifacts of principals: (pens, briefcase, journal/notebook) ○ School bell ○ Learning materials: (assignments, report cards, abacus, classroom decorations, classroom clock, personal black boards, books, etc.)
Community and Extracurricular Activities: Decorative Arts projects ○ Home Economics projects ○ Band/majorette artifacts: marching band or majorette hat, shoes, or uniform, baton, small instruments, concert tickets ○ Dance class/Glee Club uniforms, recital costumes, recital tickets, props ○ School dance tickets or programs, dance cards, homecoming/prom queen sash or crown, preserved boutonniere/corsage, jewelry, shoes, or clothing items worn to school dances
Segregation and Desegregation: Hammydown textbooks used at Douglas (if possible with inscriptions from students at Handley) ○ "Whites Only" or "Colored" signs ○ Newspaper articles about desegregation in Winchester ○ items worn or used during desegregation that can be connected loosely to a story about segregation
Athletics:○ Douglas Bulldog from letterman jacket/sweater (could also be recreated in graphic) ○ Baseball, glove, cap ○ Football, helmet, pads ○ Sports jerseys, hats, or uniform pieces
Contact Maggie McCampbell Lien with questions:
lienm@wps.k12.va.us
540-450-4640