Return to Headlines
John Handley High School Receives Best High Schools Designation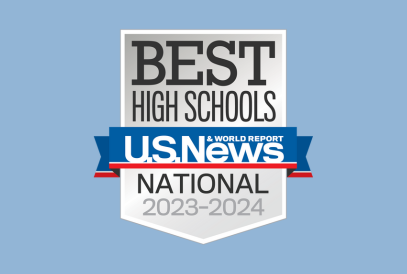 In a list released on April 26, John Handley High School was named a Best High School by U.S. News & World Report. Handley received this designation by ranking in the top 40% of 17,840 public high schools nationwide. In Virginia, Handley ranks #149 out of 333 schools in the state and is #1 in the Winchester, VA Metro Area. The census-designated Winchester, VA Metro Area includes Winchester, Frederick County, and Hampshire County, WV.
Schools are ranked on their performance on state-required tests, graduation and how well they prepare students for college. Ranking factors include:
College Readiness Index Rank: The proportions of 12th graders who took and passed at least one AP or IB exam. Passing is worth three times more than just taking.
College Curriculum Breadth Index Rank: The proportions of 12th graders who took and passed AP and IB exams in multiple areas. More exams are valued more than fewer exams up to a maximum of four. Passing an exam is worth three times more than taking.
State Assessment Proficiency Rank: Aggregated scores on math, reading and oftentimes science state assessments that students may be required to pass for graduation.
State Assessment Performance Rank: How aggregated scores on state assessments compare with U.S. News' expectations given the proportions of students who are Black, Hispanic and from low-income households.
Graduation Rate Rank: The proportion of entering ninth graders who graduated four academic years later.
Superintendent Dr. Jason Van Heukelum lauded this designation in a recent email to staff. He congratulated teachers, counselors, and administrators for contributing to the breadth of curriculum offered at Handley, including Advanced Placement and Dual Enrollment courses. The Superintendent said:
"We've always known that Handley is one of the best, and it is an honor to be recognized in this way. People sometimes assume that a focus on equity means a loss of excellence. We know, however, that an emphasis on learning for all - whatever it takes - only makes us stronger. I am proud of the vast opportunities available to our students, and I hope that families moving to this area realize what a gem Handley is to our community."
Search for a public high school here: https://www.usnews.com/education/best-high-schools
Learn more about methodology here: https://www.usnews.com/education/best-high-schools/articles/how-us-news-calculated-the-rankings