Return to Headlines
Winchester Public Schools is pleased to announce they are awarding 31 graduating seniors from John Handley High School the Seal of Biliteracy along with their high school diplomas this year. The Seal of Biliteracy is an award made by the state department of education or a local school district to recognize that a student has attained multilingual literacy by being fluent in both in English and one or more additional languages. The Virginia Department of Education (VDOE) states that,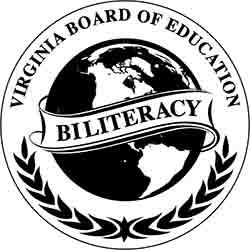 "In an increasingly connected world, Virginia's international and global initiatives prepare Virginia students to live, work, and participate in the world economy."
This state seal encourages our students in Winchester to develop global, linguistic, cultural, and communicative competence. In order to qualify for the seal, students in Winchester Public Schools completed a test called Avant, Standards-based measurement of Proficiency (STAMP) 4S. This rigorous test covers four main sections, or domain areas of being literate in another language. Students complete sections on Listening, Speaking, Reading, and Writing in the language they choose to demonstrate proficiency. The Avant STAMP 4S test is offered in Arabic, Cantonese, English, French, German, Hebrew, Japanese, Korean, Mandarin, Portuguese, Russian, Spanish, and Yup'ik. Winchester Public Schools has invested in developing students who are literate in multiple languages. The school division maintains a Dual-Language program in both Frederick Douglass Elementary and Virginia Avenue Charlotte DeHart Elementary schools. The Dual-Language program which teaches literacy to students in both English and Spanish will continue to grow next school year by adding the program at Daniel Morgan Intermediate School. The VDOE recommendation states;
"It is no longer sufficient for students to demonstrate competence on standardized tests that measure their ability to succeed in a local economy. Virginia's students need to acquire the knowledge and skills that will enable them to successfully enter college, the workforce, and participate as an active citizen in an increasingly global world."
Out of the 31 Seals of Biliteracy being awarded, 27 are for Spanish proficiency, 1 for French, 1 for Arabic, and 2 for Vietnamese.
********
For additional information, contact:
Kimberly Peterson, ESL Coordinator
540-667-4253, ext. 63008