Return to Headlines
Alumni Spotlight: Stephen Daley
By Maggie McCampbell Lien
Public Information Officer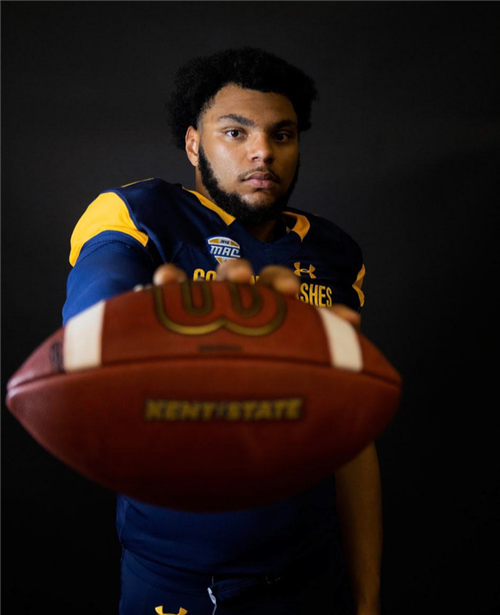 If you've followed Handley sports over the past four years, you have heard the name Stephen Daley. With a mile-long list of achievements, Daley was a Judges star in football, track & field, and basketball before he graduated in 2022. He even added baseball to his list of sports as a senior, assisting the team in seven games. Now, you can find him on the football field and in the classroom at Division 1 Kent State University in Kent, Ohio.
Born in Virginia, Daley started in Winchester Public Schools as a 2nd grader at Virginia Avenue Charlotte DeHart Elementary School. He was always an active kid who loved sports and hit his growth spurt earlier than his peers. When it came to football, Daley said, "Something just clicked. I fell in love." As a 6'4, 250 pound high school student, Daley became known for his exceptional power and speed - a combination coaches don't often see. He was named the Region 4C Defensive Player of the Year, received all-state honors in both offense and defense, and holds the Handley record of 50 career sacks. This last accomplishment is especially important to Daley because he wasn't sure he would break the record when his 2021 season was cut short due to COVID-19.
The COVID-19 pandemic also made the college recruitment process more challenging for Daley, but he ultimately chose Kent State because he could see himself being happy there for four years. So far, so good - Daley is studying Business Management and thriving in the football program. Daley has started on 2 special teams and plays on defense as well. He recorded his first sack recently and was instrumental in an overtime win for the Golden Flashes!
Daley gives all the credit for his success to his family, coaches, and others who have supported him along the way. He says, "My family has been so supportive, they try to do everything they can for me. My mom has helped me through the entire process [...] and my dad doesn't let my head get too big." The foundation his family helped build is serving Daley well as he transitions into the college world. Like many other first-generation college students, Daley wasn't quite sure what to expect. Adjusting to a different schedule and managing his time has been a challenge, but Daley loves being in a new place and building relationships with other freshmen and upperclassmen.
Though he misses Handley and his high school coaches, Stephen Daley is making strides at Kent State - and we can't wait to see what he does next.