Return to Headlines
Van Heukelum Receives Honor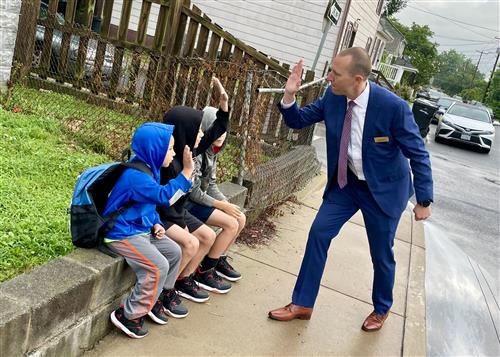 REGION IV SUPERINTENDENTS ELECT DR. JASON VAN HEUKELUM
AS 2022-2023 REGION IV SUPERINTENDENT OF THE YEAR
The Region IV Superintendents are pleased to announce that Dr. Jason Van Heukelum, Superintendent of Winchester Public Schools, has been unanimously elected to represent Region IV as the 2022-2023 Superintendent of the Year.
Born in Michigan, raised in Rochester, New York, Dr. Jason Van Heukelum has worked in the field of education for 25 years, including three years as the director of an international school in La Paz, Bolivia. His experience includes serving as a math teacher, coach, high school assistant principal, middle school principal, and deputy superintendent - all in North Carolina - until moving to Winchester, Virginia to serve as the Superintendent of Winchester Public Schools (WPS).
Dr. Van Heukelum has served for seven years as superintendent and is known as an innovative, empowering, and agile leader. Dr. Van Heukelum is an unwavering advocate for public education and speaks passionately about challenges facing schools and communities. He was recently appointed as co-chair of the Virginia School Board Association's Schools and Students in Challenging Environments task force.
During his first year with WPS, Dr. Van Heukelum oversaw the initial implementation of a Dual Language Program that now serves students in grades K-7. This Spanish-English two-way immersion curriculum places English and Spanish-speaking students together to learn literacy and academic content knowledge in both languages. With a strong focus on equitable opportunities, Dr. Van Heukelum also established the first Equity and Family Empowerment Coordinator position for WPS and started the Superintendent's Equity Advisory Council. In addition, the WPS School Board unanimously voted to approve an Equity Policy that continues to drive the focus on excellence and equity for students, families and staff.
Two significant WPS facilities have been renovated under the leadership of Dr. Van Heukelum. The Emil & Grace Shihadeh Innovation Center, a state-of-the-art Career and Technical Education facility, opened in 2021. The Innovation Center focuses on project based learning, connects with local industry, and houses three academies: professional skills, health sciences, and advanced technologies. The Douglas School, which served Black students during segregation from 1927-1966, was known as a beacon of Black excellence in Winchester and the surrounding area. The Douglas School was recently renovated and expanded to house central administrative offices, community space, and a museum honoring the Douglas School and its alumni.
Dr. Van Heukelum has also secured more than $20 million in grants for ideas that meet the emerging needs of our future society and connect directly with the WPS Strategic Plan - Empower 2025. In 2018, WPS was one of only 10 school divisions in the country to receive the coveted $4 million Education Innovation and Research Early-Phase Grant from the U.S. Department of Education. This grant led to METRICS, a whole-school immersion approach to computer science that is currently integrated across the curriculum in two of the Division's four elementary schools. In 2021, WPS received a $7.8 million Teacher and School Leader Incentive Grant from the U.S. Department of Education. Through this grant, WPS established a Multi-Classroom Leadership Model to extend the reach of the most effective teachers and provide growth opportunities for educators.
Despite difficulties during the COVID-19 pandemic and a nationwide teacher shortage, WPS saw just a 9% teacher turnover rate in 2021-22 (Annual Report), due in part to efforts made by Dr. Van Heukelum to secure pay increases for staff and prioritize school climate. In 2022, John Handley High School was named a Best High School by U.S. News and World Report and #1 in the Winchester Metro Area.
School Board Chair Marie Imoh has directly witnessed the ways Dr. Van Heukelum's leadership has impacted Winchester Public Schools:
Great leaders are known, not by their titles but by the number of lives they've impacted. Dr. Van Heukelum is a great leader, a man of integrity, discipline, and excellence and because of his exceptional leadership, the students, employees and families of Winchester Public Schools have all benefited. This honor is very well deserved. We are truly grateful for his dedication and commitment to learning for all, whatever it takes.
Dr. Van Heukelum earned a Bachelor of Arts in mathematics from Cedarville University in Ohio, a Master of School Administration from the University of North Carolina at Chapel Hill and Doctor of Education from Vanderbilt University. He resides in Winchester with his wife, Sara, and daughter, Maggie.
The Superintendent of the Year is chosen by the Region IV Superintendents Group of the Virginia Association of School Superintendents. Dr. Van Heukelum currently serves as Vice Chair of the Region IV Superintendents Group.
Dr. Van Heukelum will now compete with eight regional Virginia winners for state superintendent of the year honors.
Please join us in congratulating Dr. Jason Van Heukelum as Region IV Superintendent of the Year!
Dr. Shannon Grimsley
Region IV Superintendents Group Chair
Superintendent / Cheerleader in Chief
Rappahannock County Public Schools