Return to Headlines
Finnish Children's Author Brings Computer Science to Life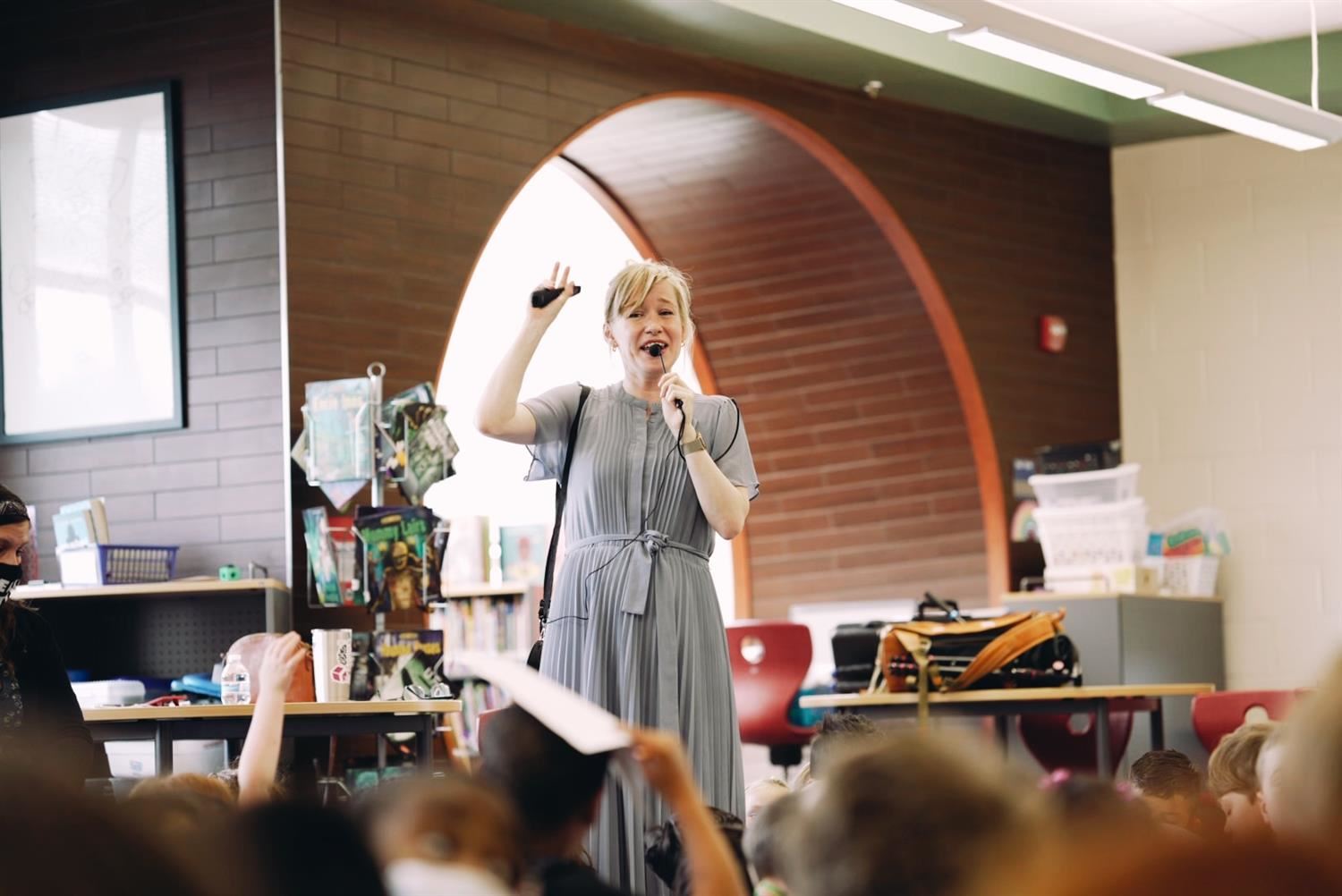 "My name is Linda Liukas, I'm a children's book author, illustrator and programmer who tries to make the world of technology a little bit more exciting, whimsical, and colorful for young children." When you hear Finland native Linda Liukas introduce herself, you are immediately drawn to her bright demeanor and obvious passion for making computer science more accessible.
Local elementary school students had the opportunity to work with Ms. Liukas this week as part of Innovation in Storytelling, a collaboration between Winchester Public Schools' Metrics Program and Shenandoah University. During its first year, Metrics (Maximizing Engagement Through Regular Immersion in Computer Science) used Ms. Liukas' books to integrate computer science through literacy. The Hello Ruby books have been translated into more than 20 languages and center around a red-headed girl named Ruby as she explores coding, computers, and the internet.
During her visits to Garland R. Quarles and John Kerr Elementary Schools, Ms. Liukas engaged students in activities ranging from building cardboard computers and creating data selfies to breaking down a problem (getting ready for school) into small steps. Ms. Liukas believes the 3 most important things to instill in children as they learn about computer science are a fearlessness towards technology, curiosity, and a sense of wonder.
Liukas was also able to focus on educating teachers and statewide computer scientists during her visit to Winchester. Keisha Tennessee, Director of Computer Science for the State of Virginia, and Perry Shank, Curriculum Manager for CodeVA, attended a lunch and learn session on Wednesday. Ms. Liukas said, "what I always tell the teachers is, 'You've got this. You are professionals in teaching students to learn new things, and computer science - if anything - is all about learning new things all the time.'"
Ms. Liukas wrapped up her visit to Winchester Thursday afternoon with a keynote speech and reception at Shenandoah University for educators in the local region. A video of her visit will be shown at the Metrics Community Event on SU's campus on Tuesday, May 31 from 6-8 p.m. Participants will be able to stroll through a 'book walk' of Ms. Liukas' first book, "Hello Ruby: Adventures in Coding." All community members are welcome to attend!
Students and teachers at Garland R. Quarles and John Kerr Elementary School will also receive a copy of one of Ms. Liukas' signed books at the end of the week. When reflecting on the visit, Computer Science Integration & Equity Coach Pam Hoyle said, "I was so impressed by the excitement and engagement from the kids. She was able to make connections with what they were learning and help them understand that anyone can be a computer scientist."