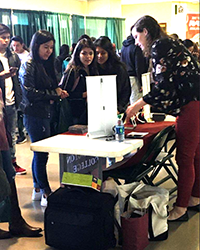 Beginning with the 2018 school year, the Winchester Public Schools has launched a new initiative called #ImagineCollege. Through the new program, John Handley High School administration and school counselors have been striving to create opportunities for students from first-generation or underrepresented groups to experience college campuses and #ImagineCollege in a tangible way. Using funds awarded by The Handley Board of Trustees, the focus this year is on the junior class to create opportunities to visit college campuses or targeted college fairs. The grant supports the visits including meals and even college T-shirts as mementos and inspiration. As a result, these students have memories and experiences that help them along the way to #ImagineCollege.
Handley educators escorted students to several college fairs in October. Students from Grades 9-12 attended the 16th annual Alcanza College Fair focusing on Latinx students from DC, Maryland and Virginia with Mr. Dufrene, Ms. Gavello, Ms. Tilling and Ms. Rose. The president of George Mason University spoke about how employers need their skills and perspectives. Students heard from a panel of current GMU undergrad & graduate students about their experience and recommendations. WPS students joined 2000 students from the region to talk with and learn about other opportunities from over 200+ programs. Mr. Dufrene shared his inspirational story about going to college.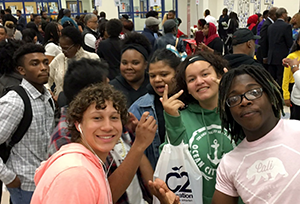 Mr. Devening and Ms. Rose took two vans full of students to an HBCU (Historically Black Colleges and Universities) College Fair organized by Tuscarora High School in Loudoun County. African American educators and professionals in leadership positions sent a strong message to students regarding possibilities. Many of the juniors plan to return next year as they offered on-site admissions for seniors at the event.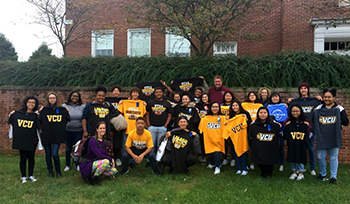 Twenty-two students got up super early one Saturday morning, leaving JHHS at 6:30am with Mr. Dufrene, Ms. Mungavin, Ms. Fradillada and Ms. Perkins for an all-day college trip to Richmond. The group attended VCU's Open House which included visiting various schools and programs, including an "undecided" session. The students enjoyed a meal at a VCU dining hall and each received a VCU T-shirt. Students then boarded the bus and visited two HBCUs--Virginia Union University and Virginia State--and then rode through the campus of Richard Bland, a two-year residential college affiliated with the College of William & Mary. They came home exhausted and full of possibilities.
Future plans for #ImagineCollege includes a spring trip to an HBCU College Fair. In addition, a College Planning Day at JHHS, in collaboration with Frederick County Public Schools and Clarke County Public Schools, is in the preliminary planning stages. Counseling Departments will feature information on financial aid, how to complete an application, college admissions panel, college student panel and a mini college fair.