Return to Headlines
WPS 2021 Teacher of the Year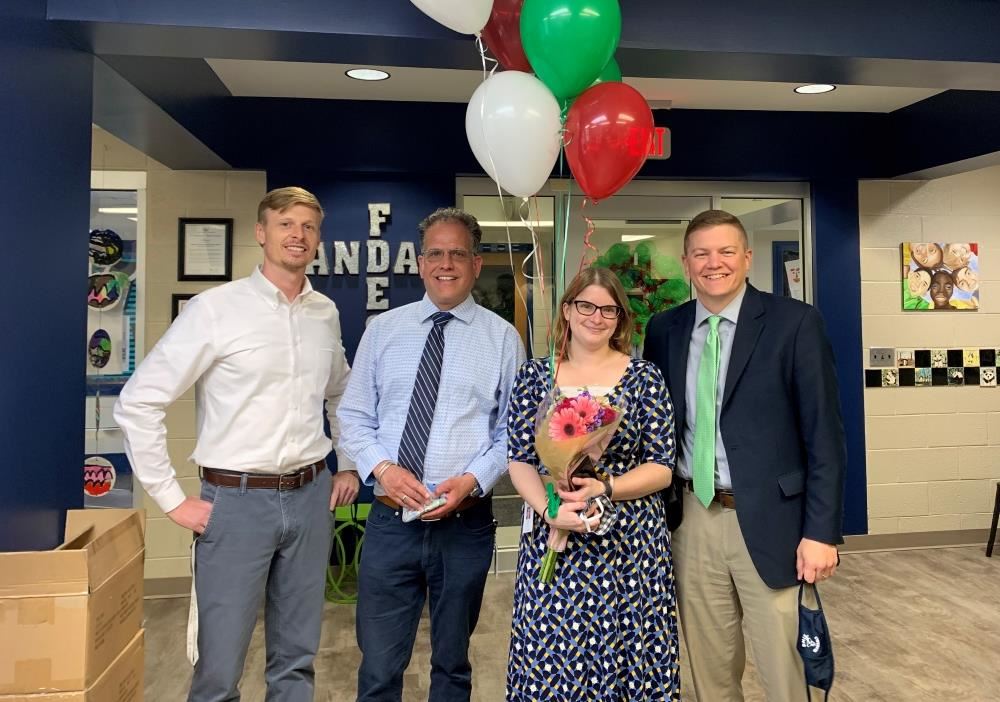 Congratulations to Ms. Kelly Carey, Instructional Technology Resource Teacher (FDES | JKES) on her selection as the 2021 WPS Teacher of the Year! Kelly, who has been an educator for 14 years, previously served as the librarian at JKES before transitioning into her role as the lead ITRT where she supports both Frederick Douglass and John Kerr Elementary Schools.
Kelly was nominated for teacher of the year by her colleagues at Frederick Douglass Elementary school. "Hardest working, dedicated, loyal, invaluable" were just some of the many sentiments shared by many of her colleagues as Kelly was surprised Thursday afternoon by Dr. Van Heukelum, members of the school board and several other WPS leaders and staff from FDES.
Kelly has been instrumental in our successful transformation to virtual learning during the pandemic. At the onset of the school closures and the switch to distance learning Kelly quickly transitioned to helping staff and students adapt in the distance learning and hybrid models by creating online how to videos, working directly with many teachers and students, helping with software integrations, and troubleshooting technology issues among many other roles.

Kelly helped to facilitate the technology support hours at multiple schools multiple days a week to allow families and students the opportunity to safely schedule onsite technology support and assistance.
Kelly was also instrumental in leading professional development efforts for our new learning management system, Canvas. In this work Kelly helped to lead the team of technology resource teachers and other key staff during the implementation of Canvas and developing and delivering the training for teachers district-wide.
"I appreciate the recognition for all the work that we have done, but it really comes down to the students and the community," said Carey. Kelly also noted that "it's heartfelt to be validated to know I am doing something that helps." Often times the work of an instructional support role like an ITRT happens behind the scenes so she appreciates knowing that it's recognized and it's valued.
As the 2021 Teacher of the Year Kelly will now be considered for a similar regional honor, the winners of which will advance to the state level competition and those selections will be considered for the national Teacher of the Year.
Congratulations Kelly!