Return to Headlines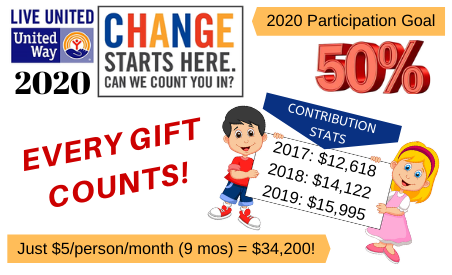 The 2020 United Way Campaign is underway! Over many years, the Winchester Public Schools has been a strong supporter of the United Way. This year, more than ever, our community needs our support! With high unemployment and an immigrant community that does not always have access to healthcare, the United Way is a lifeline for our families.
Since 2015, we have made great progress in supporting this important community agency. Last year, we sent a record (for the 4th year in a row!), raising almost $16,000! We also set a record for participation at 35%! Way to go! This year, let's break 50% participation. Everyone can give!!! Even if it's $5 per month, we can all make a contribution back to our community and the work of the United Way directly impacts our families. We make it super easy . . . simply fill out the pledge form and submit to your building coordinators. Payroll will do the rest.
This year, our theme is #UnitedWeRise. Whether it's $5 per month or $50 per month, each and every one us can afford to give back to our community. The United Way supports so many of our families and our students. From preschool to healthcare to mental health to job coaching to homelessness, the United Way provides a collective giving platform that affects hundreds of service agencies in our city.
This year's campaign is September 14-25, 2020. If every one of our full-time employees gave $5 per month, we would collectively give $34,200 this year in just 9 months!
I want to thank you in advance for your participation and generous support! I am always proud of how you show up in so many different ways for our community. Let's do it again this year!! We make it very easy – all you have to do is check the payroll deduction option on your pledge form and it will be drafted from your pay check each month. Our goal is to get 50% participation, but if we work together as a team we can do even better!
Please take a moment, complete your pledge form, and join us in supporting the United Way. Be a part of the TEAM that makes great things happen!