Return to Headlines
Winchester Public Schools has selected the Common Sense Education platform as our district-wide resource for training and educating students, staff, and families on the elements of digital citizenship. Digital citizenship skills help students learn to communicate and collaborate safely and responsibly while using digital tools. Knowing how to act responsibly when online and using technology not only keeps students safe, but it prepares them for a world full of technology.

Common Sense Education is a non-profit organization that provides free digital citizenship lessons, curriculum, resources, articles, and more to schools, educators, students, and parents. For more information regarding Winchester Public Schools' plan for using Common Sense Education, please visit the WPS Common Sense Education webpage.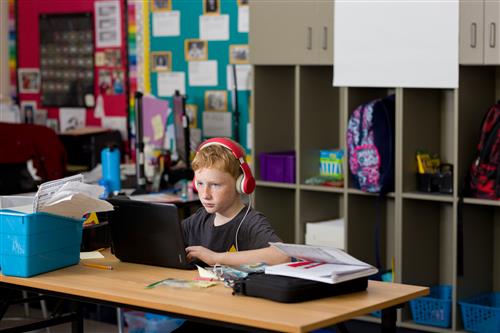 Throughout the school year, students at WPS will participate in three or more Common Sense lessons specifically related to digital citizenship. Topics and lessons may include: Media Balance and Well Being, Privacy and Security, Digital Footprint and Identity, Relationships and Communication, Cyberbullying and Digital Drama, and News and Media Literacy.
As a part of our Digital Citizenship Curriculum, students and teachers will review and sign a Classroom Digital Citizenship Pledge which will be posted in classrooms. Students will also watch videos pertaining to the WPS Acceptable Use policy and Chromebook Care. In addition, schools will promote Common Sense Education beyond the classroom by sharing Digital Citizenhsip resources, such as those listed below:
• Reviews for Movies, TV Shows, Books, Video Games, Apps, and Websites
• Common Sense Education Family Media Agreement
• Family Tips Sheets
• Common Sense Tech Balance text program (Elementary only- Text message charges may apply.)
Please visit the Common Sense Media website for more information and tools related to digital citizenship.