Return to Headlines
Senior works with USACE to complete project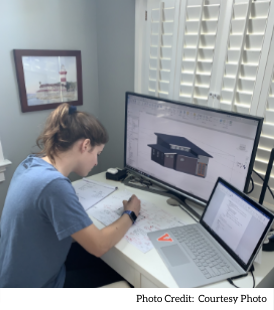 Sally Sydnor, a graduating senior at John Handley High School, has been working with U.S. Army Corps of Engineers (USACE) on her senior engineering internship project. Despite the pandemic, Sydnor has been collaborating remotely with mentors from USACE's Transatlantic Middle East District to complete the project.
Sydnor was in the middle of an engineering internship with the district when schools closed for the year. With her senior year unexpectedly coming to an end, Sydnor decided to see if there was a way she could continue her engineering project. She said, "Once schools began to close and sports came to an abrupt stop, I didn't want another thing in my life to end. Now, without school, sports, and other school activities, I have more time to focus on my project, which I see as a silver lining to the current situation."
Her project involves designing the architectural and structural components of a small residential building. This includes analyzing different loads on the structure, determining risk category, and designing the framing and foundation of the building. With the help of a TAM architect, she was able to continue collaborating remotely with her TAM mentors who assisted her in incorporating sustainable design practices into the project.
Sydnor, who is slated to start at the University of Virginia in the fall, said the internship has solidified her choice of an engineering career but opened up her mind to the various types of engineering she might want to pursue.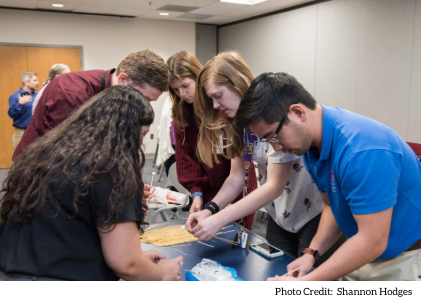 "When I applied to college last fall, I thought with some certainty that a civil engineering degree was the right path, and it still might be. But after the first couple of weeks of the internship, I came to the realization that I didn't know exactly what each type of engineering entails. It was really exciting too because now I have a lot more to discover in the years to come. I'm still not completely sure about what type of engineering I want to pursue, but I think any work that the Army Corps of Engineers does is something I will be geared towards in the future," said Sydnor.
Sydnor said despite the unexpected challenges, the internship accomplished what she hoped it would.
"I have really enjoyed seeing the day-to-day life of an engineer. The work at the Army Corps of Engineers is very collaborative and interesting. It has helped me realize the magnitude of what an engineer can do. I think for someone entering school to become an engineer, that first-hand experience is really special and I am so grateful to (USACE) for this opportunity and their willingness to continue the internship given the circumstances of a pandemic."