Return to Headlines
Senior Class of 2022
Victor O'Neill Studios, your school's official school photographer, is excited to see you on the following date(s) for your senior portraits at John Handley High School: October 13, 14, 15 & 18.
Due to safety concerns during the COVID-19 crisis, they will no longer be mailing appointment notices home. It is safer to communicate with everyone through email and allows them to control the number of appointments throughout the day. Therefore, instead of pre-assigning a date and time for your senior portrait, they are offering you the opportunity to select your date and time through their new scheduling software.
Tuxedos and drapes will be provided by Victor O'Neill Studios for the yearbook pose, as has been the tradition. They will also offer casual and cap and gown photos. Please note that the tuxedos, drapes, and caps/gowns will be shared with other seniors. In order for these items to be used, a signed waiver must be brought in by the senior. They will have the following modifications in place to ensure a safe environment for students, parents, and our staff:
** Signage will be in place to encourage social distancing while students wait for their turn at each camera.
** Photographers will not come within physical contact with any student and will stay behind the camera.
** Photographers and assistants will be wearing masks at all times.
** All of the photography staff will have their temperature checked before reporting to work each day.
** Anyone entering the room where portraits are taking place will have their temperature checked. In order to maintain a safe portrait area regarding social distancing, access to the portrait area will be limited to the senior and one family member.
** Any shared clothing will be sanitized using UV-C lights between students.
** Masks must be worn by anyone entering the building, only to be removed immediately prior to having portraits taken.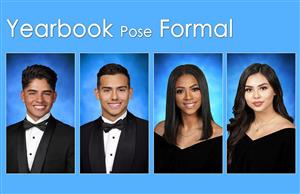 Please sign up for your session date and time here: pickatime.com/vosphoto/handleyhs.
If you have any questions, feel free to reach out to seniors@vosphoto.com.